Manufacturing Process

Podscan produce custom made orthotics manufactured using computer aided technology to perform precise cast corrections according to the practitioner's prescription, to manufacture accurate orthotic devices to maintain optimal foot and lower limb posture, specific to each individuals unique foot function.
PodScan uses computer aided design to produce an adjusted positive or can directly mill a corrected foot position from EVA if producing a digital scan. (You can still provide PodScan with a negative cast or foam impression if you prefer).
The adjusted foot position will result in a "corrected positive" which has been altered according to the practitioner's prescription, from either a digital scan, plaster cast or foam impression. The corrected positive is adjusted according to your prescription, and computer aided orthotic manufacture is utilised to produce extremely accurate prescription orthotic devices made from a large variety of materials to the exact specifications of the practitioner.
PodScan's fixed price orthotic system, ensures that your are not ridiculously charged for every single addition you make to your orthotic. Furthermore if you are doing large monthly volume of orthotics then you may qualify for PodScan to provide you with a free scanner to improve accuracy of your orthotic manufacture, increase the speed of capturing a neutral impression of the foot, and eliminate time, clean-up and costs associated with the use of plaster:
STEP BY STEP GUIDE TO ORTHTOTIC MANUFACTURE
Step One:
Provide PodScan with an image of the foot in its neutral position. This is most commonly done by emailing a scan of the foot taken with a 3D-digital laser-scanner. The practitioner will hold the foot in a neutral position and within seconds a digital image of the foot will appear on the computer screen which is then emailed directly to PodScan and stored on file for subsequent use. (You may even qualify to have a free scanner provided by PodScan for use in your own clinic).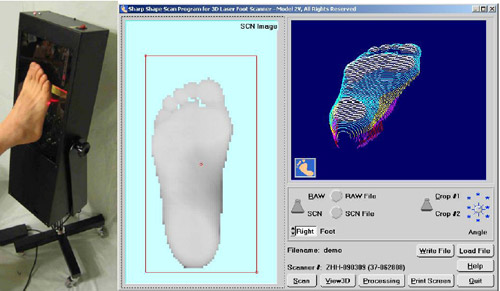 Of course you can still send PodScan a plaster cast or foam impression and we will then take a scan at our lab of the inside of the cast and provide a corrected positive from this.
Step Two:
The practitioner will fill out the orthotic prescription which has a large variety of variables and additions that can be incorporated by the lab to adjust the corrected positive to the exact specification of the practitioner (very similar to the traditional prescription technique of correcting plaster positives).
or
The software in the computer program can be used by the practitioner to correct the foot to the desired position and then emailed directly to the lab as a corrected foot position. (Training can be provided to allow this option to occur).

Step Three:
The PodScan Lab will then apply the corrections contained within your prescription to modify the scan and produce a "corrected positive" of your patient's foot.
Step Four:
Computer aided design is then used at this stage to do one of two things:
• Creation of a corrected positive directly milled using the Automatic Orthotic Manufacturing System (AOMS). This will produce a corrected mould of the patients foot onto which an orthotic device can be pressed as per traditional orthotic manufacturing methods.
• The corrected foot position can be directly milled out of a solid block of EVA to produce either full length or three quarter length EVA orthotics.
Step Five:
If a corrected positive has been created, the orthotic is then pressed onto the mould using a variety of materials according to the prescription of the practitioner. Options include polypropylene, EVA, Combination devices (2mm polypropylene & EVA underneath).
Step Six:
Any additions are added according to the practitioner's discretion and prescription, and then top covers of your choice are applied. The PodScan "fixed price orthotic" system ensures that you wont be ridiculously charged for every addition that is required on your orthotic, ensuring that you can prescribe the ultimate orthotic for all your patients.